The Gordon Setter has been touted as having "beauty, brains and birdsense". Indeed, this confident hunting dog has it all! He is a great athletic companion – comfortable at home or out in the field. He is exceedingly loyal to his family, although more reserved with strangers. He is also very intelligent – almost human-like at times. Finally, he has a lot of energy crammed into a beautiful package and simply needs an outlet to expend it! Of the four setter breeds, the Gordon is the largest and most muscular.
Gordons are a very adaptable breed and can do well in many different situations… provided their basic needs are met, including being given affection. One of those needs is access to a large fenced yard in which to run and play. A backyard is ideal, so apartment-dwellers may have a harder time providing this. Because of their hunting instincts, Gordon Setters tend to roam – hence the important of a fence. The breed also needs to be walked daily, in addition to their yard time. They are very active and require a lot of exercise, although generally easygoing in the house. One situation that Gordons don't tend to adapt well to… being a kennel dog. These dogs thrive on being with their owners and will deteriorate if kept separated from people all of the time (they may also become destructive).
The Gordon Setter is sweet and affectionate to his family and tends to "talk" quite a bit at home. The breed has a wide range of vocal noises that they will use to communicate everything from "I want something" to "I'm happy". In addition to the mumbling and talking – they do also bark like "regular dogs". Some do this on a regular basis, particularly if they are bored. The breed is known to suffer from separation anxiety and may bark and howl if left alone for long periods of time (so make sure they are getting enough attention and exercise). On the up-side, because they are so vocal they make excellent watch dogs!
Gordon Setters are usually very gentle with children, particularly when they are introduced to them from the time they are puppies. Aggression toward children is very rare, and in fact they tolerate harsh treatment better than many breeds. This does NOT mean they should be matched up with rowdy kids! It means that an owner must supervise dog-kid time to make sure the dog is treated fairly. Gordons also tend to be protective of young children and will do their best to keep them safe. While some Gordon Setters get along ok with other dogs, others can exhibit aggressiveness. Most Gordons do better with dogs that they were raised with and already know, versus a strange dog. Cats can also go either way – some Gordon Setters are fine with cats while others are unsafe around them (usually those members with extra high prey drives).
As with most of the longer-haired breeds, Gordons do require regular grooming upkeep. Their thick, yet silky coat needs to be brushed once or twice a week to prevent mats from forming. They may also require a bit of scissoring and clipping to get them to look like the dogs in the show rings! Nails and ears must be regularly checked and kept up with as well. Keep in mind that this breed does shed quite a lot!
Gordons respond very well to training and their intelligence is rarely questioned. They can, however, be sensitive and need to be trained without harsh methods. Don't mistake firmness for harshness – the two are very different! Wishy-washy training with no rules or consequences will often lead to a dog that exhibits dominant behaviors and stubbornness. Of all of the setters, Gordons are known for being more independent and more prone to dominance. Therefore, being firm, yet fair is a good rule of thumb. Since Gordon Setters love to play, making training into a game can be a great way to introduce new commands and keep old commands exciting and fun!
Gordon Setters take a little longer to mature than some other breeds and often retain puppy characteristics for quite a while. This also means that they are extra active when young and it may take several years before they are fully calm in the house. The good news is that when the dog matures, he will become serene and composed in the house (as long as he is given enough exercise – remember that this is a gun dog bred for hunting all day!). If you have a Gordon Setter and are looking for a dog trainer in the Austin, TX area, call us today!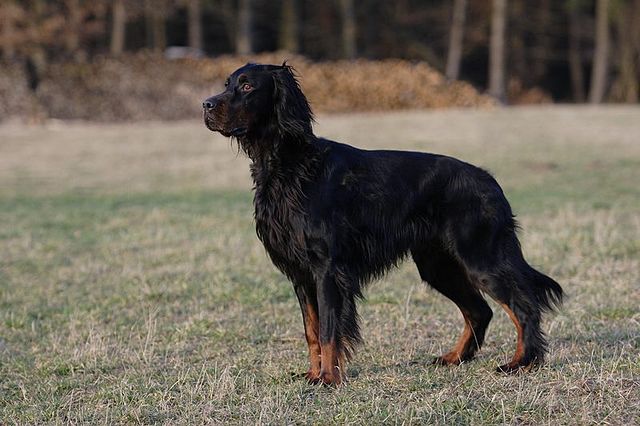 By Hans-Jörg Hellwig – Own work, CC BY-SA 3.0, https://commons.wikimedia.org/w/index.php?curid=9408072