The Icelandic Sheepdog is the only native dog of Iceland – brought to the country by Vikings and used for herding. These spitz dogs had to be tough enough to survive and work in such a difficult terrain and as such, are a very hardy breed. The breed is friendly and playful with their owners, while also possessing an inquisitive nature and a lot of courage. They make great watchdogs as they will bark to alert to any change in their environment. These dogs also bark while working (which includes play) – a trait that helped the herdsmen always know where they were. This may make them more difficult for people who live with neighbors in close proximity!
ISDs are known for being intelligent as well as lively – traits that may keep some people on their toes! This said, they love all people and prefer to stay close to their owners at all times – so this is not a kennel dog or outside-only dog. They get along well with children of all ages and are not known for being aggressive normally, although supervision is often recommended (usually for the dog's sake). They also tend to do great with other animals as long as they have been well-socialized. Even smaller animals are often safe, as this breed doesn't have a strong prey drive.
When it comes to training, the Icelandic does not do well with harsh treatment and tends to shut down. With fair methods, however, he learns very fast and loves to please. It is recommended to start training an ISD early and frequently, or else their natural intelligence will lead to all sorts of mischievous behavior! The breed can usually be trained to off-leash levels quickly, especially since they don't tend to wander, although they will need to be proofed (given distractions) in order to be reliable. Those with a stronger herding instinct may be very tempted to chase after moving objects (including cars) despite their training.
The amount of exercise needed varies from one Icelandic Sheepdog to the next, although it is important to remember that this breed is a working/herding breed. Rarely will an individual thrive who stays in the house all day without any outlet. Along with regular walks, it is recommended to get the dog into a fun activity such as herding, tracking or even swimming. Some members of the breed make great therapy dogs and other have been known to become assistant dogs! Because they are generally on the smaller side, a moderate amount of exercise is usually enough for most members of the breed.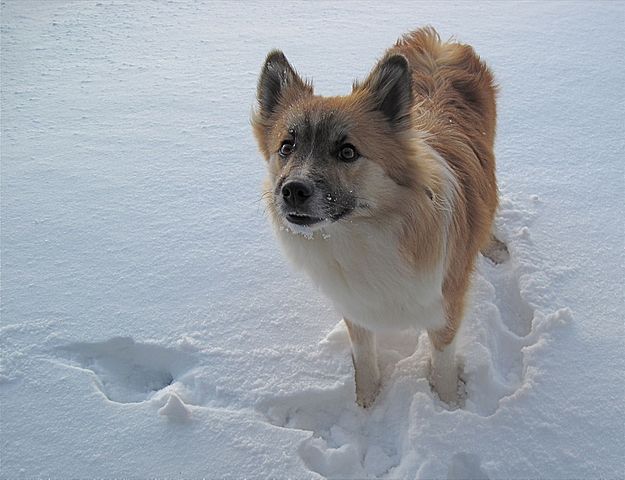 The ISD comes in two different coat types – longhaired and shorthaired. When taken care of regularly, neither coat should not have a strong doggy odor, as the breed tends to keep themselves clean (with the one exception of dirty paws, as they do like to dig). In snowy areas, the coat doesn't tend to hang on to snow, as it usually falls right off. They can also be kept in warmer areas of the country, although living inside in the air conditioning will be required when it gets extra hot. An Icelandic should never be shaved! Although their double coat does shed, keeping them combed out is a relatively easy chore.
It might not be surprising to learn that Icelandics are prone to separation anxiety, which may also include houdini-esque attempts to escape their crate and/or fenced yard. They love to be around their people so much that it can be difficult when it comes time to say goodbye for even short time periods. Some people "solve" this problem by bringing them with them wherever they go (they travel well), although not every owner is in a position to be able to do this. It is recommended to get the Icelandic puppy used to spending time alone as a puppy, in order to minimize problem barking and stress.
Icelandic Sheepdogs are generally healthy and long-lived, with many individuals living until 15 or 16 years old. All breeds and mixed breeds have the potential to come down with health problems, although with purebreds it is more likely you will know what that disease may be, and might even be able to avoid. Health issues seen in the ISD include cataracts, eyelash abnormalities and hip dysplasia. Looking for a dog trainer for your Icelandic Sheepdog? If you live in the Austin, TX area give us a call today!